iSYS UK
Response time next working day.
If you have a complaint, then just email me, there is no escalation process as if I can't resolve the issue then no one can, the buck stops with me.
.UK domain space charges 25 pounds every 2 years and thereafter.
There are no key terms of the contract, if you are unhappy with my services, you're welcome to move them to another provider.
Domains will be auto-renewed approximately 30 days in advance of the domain name expiring. If you do not wish the domain name to renewed, please contact me a minimum of 35 days before the expiry date. All domains can be renewed until approximately 90 days after the expiry date.
If you wish to raise a domain abuse complaint, please use the email address below.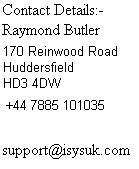 Please read the Nominet Terms and Conditions! - it's good bed time reading, I promise.
Nominet T & C's
Services with a smile